Like us on facebook.
www.facebook.com/capitalkaraokeimports
Don't forget to check out the new Capital Chartbuster releases.
We are very excited to bring back chartbuster discs into Australia & New Zealand.

Click here if you would like to check out these releases
____________________________________________________________________________________________

We are now the Australian dealer for Proburn Custom Compilation Discs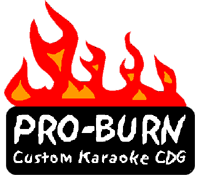 Custom make your own CDG compilation
Prices are below
1 to 4 tracks - $7 each
5 or more tracks - $5 each
(max of 15 tracks per disc)
Email us for the complete track listing to make your own custom compilation disc OR Click here to download it
Once you have your compilation email it to us or phone us on 1300 171 595 and we can do it over the phone

Brands included are
Easy Karaoke / Zoom / Pridis / Music Maestro / DK & more

Soon to be added - Capital Karaoke & Big Hits range

Terms & Conditions:
WARRANTY AND RETURN POLICY

Each custom disc is individually and carefully created to your specifications using high quality equipment and materials, and is warranted against defects in workmanship. Because each custom disc is unique, we cannot accept a return unless the disc is defective upon receipt. Claims for defective discs will be honored for 10 days from the date of shipment. Defective discs will be replaced with an identical disc. Please immediately call us on

1300 171 595

if your disc is defective or does not play when you receive it. The customer is responsible for the future care of each custom disc, and there is no additional warranty, either specific or implied, after the initial ten days, it is the customers responsibility to ensure the playing device is capable of playing CDRom or burnt media.
---
We Specialise In All Formats: CDG / VCD / DVD
Karaoke Hardware - Players / Speakers / Microphones plus more
CDG -
Backstage / BMB Nikkodo SAV Series / Chartbuster / Country Hits Monthly / Essential Karaoke / Just Tracks / Karaoke Hits / Music Factory / Monster Hits / Pocket Songs / Pop Hits Monthly / Sing It Now / Sound Choice / Sunfly / Sweet Georgia Brown / UK Karaoke / Zoom
VCD & DVD -
Best of the Best / Broadway / Hits of the Decades / Hot Music / Megadisc / Power Music / U Best / United / World Star
1) We promise to keep in stock every disc in our extensive catalogues, (subject to availability).
2) We promise to exchange any disc you are unhappy with for any reason, provided it is returned in new condition within 7 days of purchase (Limitations apply) .
3) We are happy to play tracks over the phone to help you with your choice.
4) We promise to try to match or beat the price of any other dealer offering genuine discs.
5) We research and provide you with a newsletter and list of new discs available, every month.
6) We keep an up to date database, the largest in Australia, and give you a free service to find the song you are looking for and a list of choices on available discs.
7) We will pass on your unavailable requests to karaoke manufacturers, who do bring out customers requests.
8) Regarding refunds please click here – Due To The Nature Of Digital Products We Are Unable To Refund Once Purchased. Products Include Digital Tracks And Hosting Software.
Opening Hours:-
Mon - 8am till 5pm

Tues - 8am till 5pm

Wed - 8am till 5pm

Thurs - 8am till 5pm
Fri - 9am till 4pm

Sat - 9am till 1pm
Sun - Closed

We are closed national public holidays.
Our Address: 1/64 Sugar Rd, Maroochydore QLD 4558
Sales: 1300 171 595
Fax : 07 5443 7156
Proprietor: Darryl Hayden Established 1967
Email Us
Sales: sales@capitalkaraoke.com.au / sales2@capitalkaraoke.com.au
Admin: info@capitalkaraoke.com.au